SBC Health Products, Inc. specializes in private label manufacturing of nutraceutical products. We operate with over 50 years of combined experience in the nutraceutical industry with a commitment to provide the highest quality vitamins, minerals, nutritional supplements and cosmeceuticals at competitive prices. Today, our medical advisory staff includes Doctors, PHD's and Chemists, offering you the best and most innovative all natural products from around the world.

Our global reach presents us with new products and raw materials daily. After completing extensive clinical evaluations we bring leading products to market.

Senior Management & Strategic Partners:
Scott Christensen, President & CEO, has extensive experience in the natural products industry. This includes seven years as Vice President of Hi-Health Corporation where he was director of all sales operations. During his tenure with them, Hi-Health stores more than doubled in number and sale revenues tripled. In 1997, Hi-Health Corporation was named "Natural Products Retailer of the Year." In 2000, Scott left Hi-Health to create SBC Health Products, Inc. Scott has brought together a specialized group of people with expertise in:

International Law and Banking
Cultural Relationships
Freight Forwarding & Logistics
Product Development
International Sales & Marketing
Communications Technology
With our home office in the United States and our European office in Trondheim, Norway and Eastern European office in Vilnius, Lithuania we are well positioned to support international growth.
Dedication to Quality »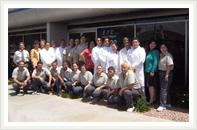 SBC has been my supplier of choice for many years. They helped me formulate my product, and with their full service capabilities - I can focus on growing my business and trust SBC to handle the rest!